Frequently Asked Questions



1. I can't get any of the interviews to play - what should I do?



The easiest way to listen is to simply click on the "play" button to the left of the interview date. You'll need to have Adobe Flash installed (a free program). Alternatively, you'll need to have some type of streaming media player installed on your computer to listen to the interviews. It normally comes with Windows (Windows Media Player) or Mac OS (Quicktime), but if you don't seem to have it, you can download either for free. We also like a great free player called Winamp from AOL.



= play in Windows Media player


= play in RealPlayer


= play mp3 stream


= direct link to mp3 file for download

You can also download the file to your iPod or other mp3 player following the directions in FAQ number 2.

2. When I click on the

button or the "Download mp3" text link nothing happens - or it starts playing the interview instead of downloading it. How do I download the interview?"
a) Right click on the

button or "Download mp3" text link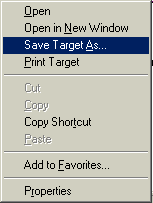 b) Click on "Save Target As..."
c) You will then see a "Save as" box. Click "Save" and be sure to note where it is saving to so you can retrieve the file after it is downloaded.
Note: If you are using Firefox as your browser, follow the same steps. But instead of "Save Target As", it will say "Save Link As"
3. What is this RSS link and what is Podcasting?
For those of you who use a news aggregator or a MyYahoo personalized page, you can be notified automatically each time a new program or interview is added to Small Business Podcast. In fact, you can use a program to download each interview to your mp3 player automatically so it is there ready for you to listen to anytime you're ready. If you are already using iTunes, you have everything you need to subscribe to our interviews. Click on the iTunes button below to subscribe, or any of the other buttons below to subscribe to our feed.

A website called Podgrunt has a very good 4-minute video that explains exactly how podcasts work.

Contact us if you need any assistance in getting our podcast.


4. How do you choose who you will interview?
We interview small business owners and experts at all levels. You don't have to be famous or even well-known - just willing to help others by talking to us about your experiences. If you would like to be interviewed or know someone we should interview, please contact us.
Still have questions? Contact us.